Phantom Quest Corp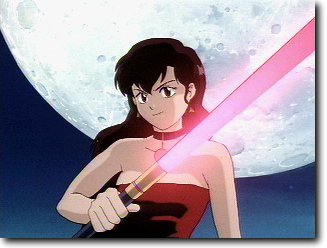 Distributor: Pioneer

Genre: Comedy/Supernatural

Format: Series

Length: Four Episodes

Subbed/Dubbed: Dubbed

Audience Appropriateness:
Scary moments like demons and vampires biting people - but no blood, and nobody dies who isn't already dead. In episode three, there is some sexual harassment between a client and his employee, and a quick breast shot. Finally, the lead often gets drunk on Saki.

The Back of the Box:
Deep in the basement of a skyscraper in Shinjuku City is an excorcist dectitive agency named Phantom Quest Corporation. Gathered there are a group of people with psychic abilities to detect and eliminate ghosts, headed by Ayaka Kisarai - a shapely woman with a taste for designer clothes. This group is all that stands between you and the end of the world.

Review:
Ghostbusters - but with a Japanese flavor to it. Oh, and a spirit-stopping lightsaber with a tube of lipstick as the hilt. As you might have guessed, this is a light hearted series.

The biggest problem with the series is that it's too damn short. It's only four episodes - which is hardly enough time to flesh out characters and settings before the whole thing is suddenly over. As a result, the series seems a bit rushed. Plots are introduced and are wrapped up too neatly before they really get a chance to get going. Likewise character development is written in shorthand. Does this make it a bad series? No - just a small blemish on the overall gem.

The animation quality is more than adequate for the job - not exactly inspired, but it still looks good. The soundtrack/score is cool (including the opening music - kind of a Chuck Barry/Great Balls of Fire style theme), and the series is short enough to take a risk on. What the heck - take a risk!

All reviews are TM & © 2000 Psychotoaster Productions. All images are TM & © 2000 the respective license holders - and are used in fair use for these reviews.
This entire domain and all associated e-mail addresses are located in the State of Washington, and sending mail to addresses at this domain is subject to the provisions of the Revised Code of Washington.